INDIA NEEDS MORE WOMEN AT THE TOP
The gender disparity between men and women in leadership positions in corporate India is quite stark. Women only hold 25% of C-suite positions globally, but in India, women hold only 17% of leadership positions and only 12% of topmost senior leadership positions. Indian companies must appoint more women at topmost positions, if they have to reverse the trend of gender inequality.
The number of female Board Directors has increased more than 200% since 2013. However, this change was influenced by the Companies Act of 2013 which mandated that all listed companies must appoint at least one female Director.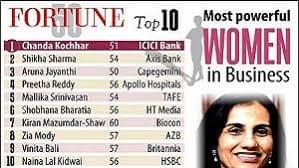 Unfortunately, having one female Board Director is only a token move with studies suggesting that a Board need a minimum of 3 women to gain any advantage of gender diversity. In fact, this is quantifiable in financial results like a 53% higher return on equity, 42% higher return on sales and 66% higher return on invested capital with 40% of investors preferring to invest in companies which have female Directors on their Board.
In fact, another study proved that more women on Boards create more systematic dialogue, more effective crisis and risk management, more carefully thought out plans, better representing all stakeholders, leading to better governance and advice to management.
Many large corporations have brought it family members and friends of the sponsor families instead of seasoned professionals. With women like, Vinita Bali, former MD of Britannia, Arundhati Bhattacharya, former Chairperson of SBI, India's largest bank, M&A lawyer Zia Mody, Anu Aga, a prominent social worker and Member of Parliament and Ireena Vittal, former partner at McKinsey all available to claim Board positions, Indian companies have an abundance of perfectly qualified companies to join their Boards.
The revised Companies Act to be passed in 2019 will require boards to have an independent Board Director and corporate India will be one step closer to bridging the existing gender gap.
Written by Madhav Gupta & Edited by Alexander Fleiss