Should California's Utilities Pay for Wildfire Damage?
Many of California's destructive wildfires were ignited by downed power lines and sparking electrical equipment. Around a dozen blazes in northern California last year including the 2017 Thomas fire, the largest wildfire in the state's history, may have been started by downed power lines.
Map of the 2017 Thomas Fire
When the power-related equipment causes a fire, the owner of the utility has to pay for the damage to homes and property. Under the concept of "inverse condemnation," the government must provide compensation when it damages private property, regardless of fault. The costs associated with an inverse condemnation, such as payouts to homeowners whose neighborhoods were ravaged by wildfires, have been spread across the population by government agencies and utilities for years.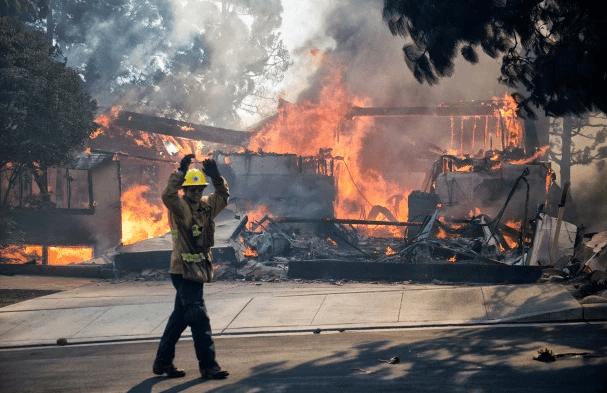 The fires can be devastating to residential neighborhoods.
Investor-owned utilities, such as Southern California Edison, cannot increase rates without the consent of the California Public Utilities Commission (PUC). To recoup the costs of inverse condemnation from ratepayers, a utility has to show that it is a "prudent" manager of its infrastructure. In 2017, the PUC refused to raise rates to cover $380 million in claims from wildfires in 2007, because the San Diego Gas & Electric company (SDG&E) did not properly manage vegetation near damaged properties. Edison, SDG&E, and Pacific Gas & Electric, the state's three big investor-owned electric utilities, claim that they will face financial ruin if they are unable to recoup the cost of inverse condemnations.
Pacific Gas and Electric is proactively cutting down potential threats such as trees downing power lines.
This month, state lawmakers will work to learn how to allocate costs from wildfire damage claims this month in a conference set up to create new rules for wildfire liability. Additionally, the conference will create methods to limit damage from wildfires. It may be unreasonable to lead companies to financial ruin because of a lack of "prudency" when they serve areas prone to wildfire and do not charge customers higher rates for fire risk.
Written by Koray Williams, Edited by Jack Vasquez & Alexander Fleiss